Parents / Rhieni
During the school closure , we have created a whole range of resources for pupils to use at home - please look at the Student Area of the webpage.
10th July 2020
Results Day Arrangements August 2020
Please read the letters regarding arrangements for distributing external examination results in August 2020. The letters can be found using the 'letters' tab.
19th June 2020
Dear Parents,
The NHS has asked for this message to be sent out to you.
Undiagnosed Type 1 diabetes in children requires urgent medical attention
If your child has ANY of the main symptoms of Type 1 diabetes please make an urgent GP appointment or contact the Out of Hours service. The main symptoms are known as the 4 Ts – Thirst, Toilet, Tiredness, Thinner. If you notice your child is thirsty or using the toilet more frequently, is always feeling tired, or has lost weight recently, seek immediate medical advice.
NHS services are very well equipped to look after children safely if they are unwell. Please do not delay seeking medical advice because of Covid-19.
There is more information available here:
https://www.diabetes.org.uk/in_your_area/wales/campaigning/know-type-1---wales
COVID-19 Guidance to parents and carers to support families to stay safe, healthy and learning from Welsh Government
https://gov.wales/covid-19-guidance-parents-and-carers-support-families-stay-safe-healthy-and-learning
June 2020
Dear Parent,
Public Health Wales and health board colleagues have been working hard to support parents during this Coronavirus pandemic. You now have the opportunity to access free online, bilingual courses. We hope you find them helpful, particularly during these challenging times.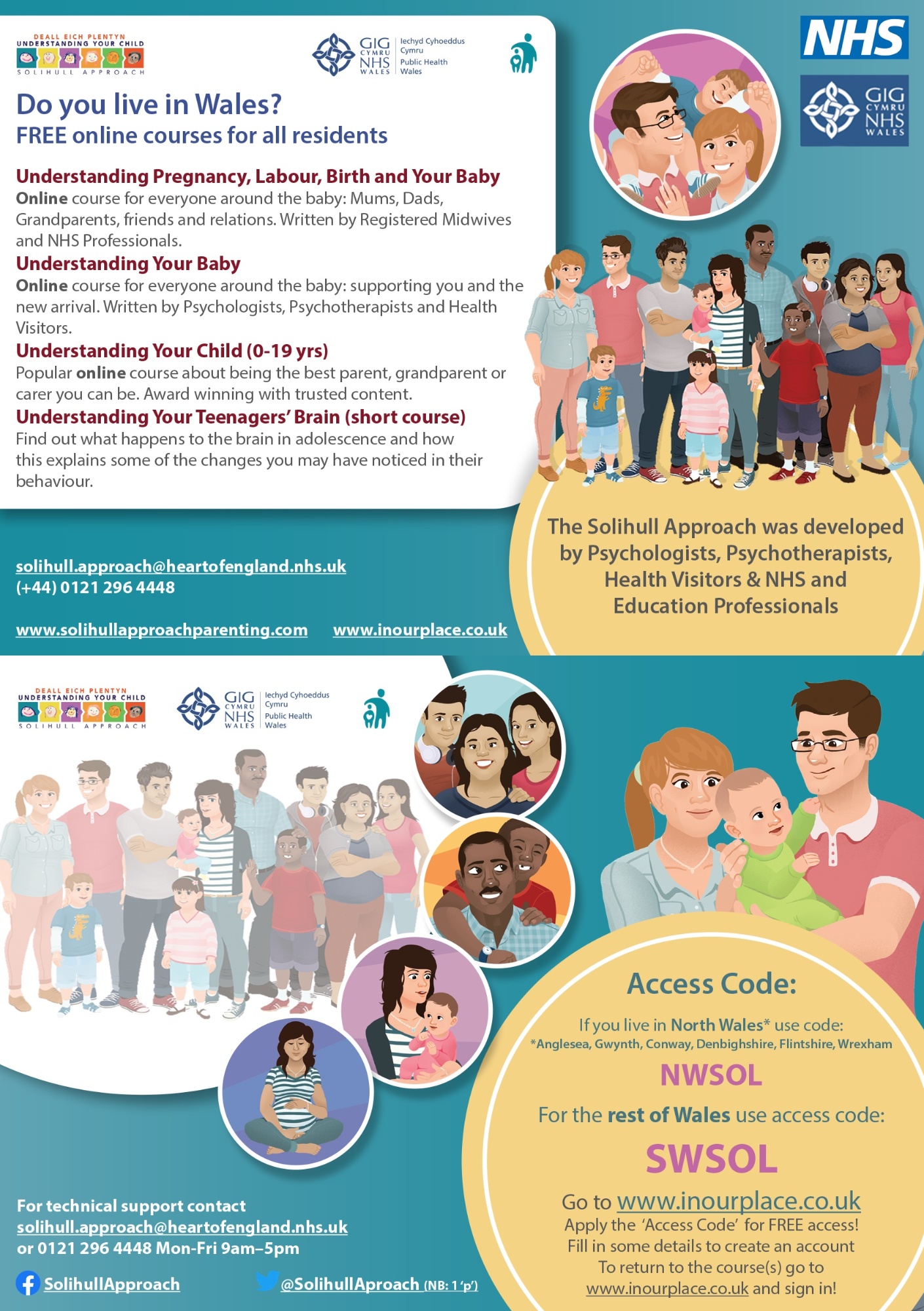 Pastoral Year Groups
Each pupil is in a form class. These classes are the key community for every individual class and form tutors work hard with their class to develop a sense of belonging and a team spirit.
Each year group has a dedicated Pastoral Support Officer (PSO). This person is a non-teaching member of staff who is solely focussed upon the welfare of each child in the year group. They help with "small" issues like a lost coat to bigger issues such as friendship fallouts. The PSO also is the key person in communicating with home and running events such as the parents' evening.
Each year group is led by a Head of Year. This person is the key member of staff for all matters pastoral or academic. With the support of the PSO, the head of Year ensures that there are high standards of uniform, attendance and achievement in their year group. They set the tone for the year group through assemblies and celebrate successes through the rewards system.
Croesyceiliog School also utilises outside agencies, such as the school counselling service, to provide support for our pupils. We have links with many services such as CareersWales, Torfaen Social Services and Police Schools Liaison. Any pupil or parent/carer can request support from these agencies via the pastoral staff at the school.
Reporting to parents
At Croesyceiliog School tracking student progress and reporting to parents and carers occurs according to our assessment calendar. Parents/carers receive 2 AAAs per academic year which provide a summary of their child's achievement, attendance and attitude to learning.
AAAs track students' current working level (KS3) or current working grade (KS4) in each subject and compare it with their Minimum Target Level/Grade . They also show students' expected progress by the end of the curriculum year (KS3) or by the end of the course (KS4). These are colour coded – purple (well ahead of MTL/MTG) green (ahead of MTL/MTG), amber (on track to meet MTL/MTG) and Red (not on track to meet MTL/MTG).
Coursework progress (if applicable) and Attitudes to Learning (ATL) in class work and homework are also recorded by each teacher.
In addition to the AAAs, parents/carers also receive one full report of their child's progress per academic year. This comprises of the above AAA data, 3 targets for improvement from every subject, LNF (Literacy and Numeracy framework) targets at KS3, comments from form tutors and an overall comment form the Head of Year.
Form tutors, class teachers, Heads of Department and Heads of Year monitor students' progress in order to ensure that students are challenged, if they are meeting/exceeding their minimum target grade, or supported if they are not meeting their minimum target grade. Form tutors discuss progress as recorded in each AAA in progress review meetings with students and set targets for improvement. It is also very helpful for parents/carers to discuss AAAs and full reports with their child/ren, particularly with regards to their attitude to learning in classwork and homework.
Parents/carers are also encouraged to discuss their child's progress with class teachers at Parents' evenings which are held annually, according to our calendar. Students have a page in their planner on which to make appointments with individual class teachers. We pride ourselves on excellent attendance at these evenings and value fostering and maintaining close links with parents/carers, in our drive to ensure that every student fulfils their potential.
Celebrating success is an important aspect of school life as we all thrive in an environment of ambition, reward and recognition of our achievement. We hold KS3 and KS4 Awards' Afternoons in the last half term of the academic year, in which individual students are congratulated for their excellence or improvement in individual subjects. A sixth form Awards' ceremony is held in September.
We aim to work with our students, parents and carers to ensure that every student is given every opportunity to meet or exceed his/her minimum target grade.
Croesyceiliog School's Curriculum
The Key Stage 3 Curriculum (Y7-9)
At KS3 the school complies with the National Curriculum requirements and all pupils are taught English, Mathematics, Science, Art, Geography, History, ICT, Modern Foreign Language or 'MFL' (French & Spanish), Music, Physical Education or 'PE', Technology and Welsh. In addition all pupils also study Religious Education, Drama and Health and Wellbeing. For the most part pupils are taught in mixed ability form groups, though pupils in Y8/9 are set by ability in English and Mathematics.
The Key Stage 4 Curriculum
In KS4 all pupils study English, Mathematics, Science, PSE, Games & the Welsh Baccalaureate. Pupils also choose three option subjects. There are also a number of alterative curriculum options that a pupil may follow to best suit their future pathway.
This is discussed at the annual Options Evening for Year 9.