News and Events / Newyddion A Digwyddiad
Torfaen Shared Ambitions
Please click on the link below to view the Torfaen shared ambitions document 2021-22
KS3 Outdoor Learning
This term, our KS3 learners are spending some of their lessons outdoors. The sessions are run by Upbeat and the Youth Service.
Upbeat Sessions
Students have an interactive session, building their teamwork and rhythm skills. Each session includes 45 minutes of group samba drumming. These sessions run 2-3 times a week for 6 weeks.
Youth Service Sessions
Students participate in activities to develop their leadership and teamwork skills. They get the chance to enjoy building outdoor shelters and cook over an open fire.
Our communication channels are as follows:
Parentmail
Follow us on Twitter:@croesyschool
School website: www.croesyceiliog.org.uk
Email: Head.CroesyceiliogComp@Torfaen.gov.uk
Coronavirus
Please follow link below for advice on COVID-19 for parents and carers (Public Health Wales):
https://phw.nhs.wales/topics/latest-information-on-novel-coronavirus-covid-19/guidance-for-schools-advice-for-parents-or-carers/

Summer Sports Clubs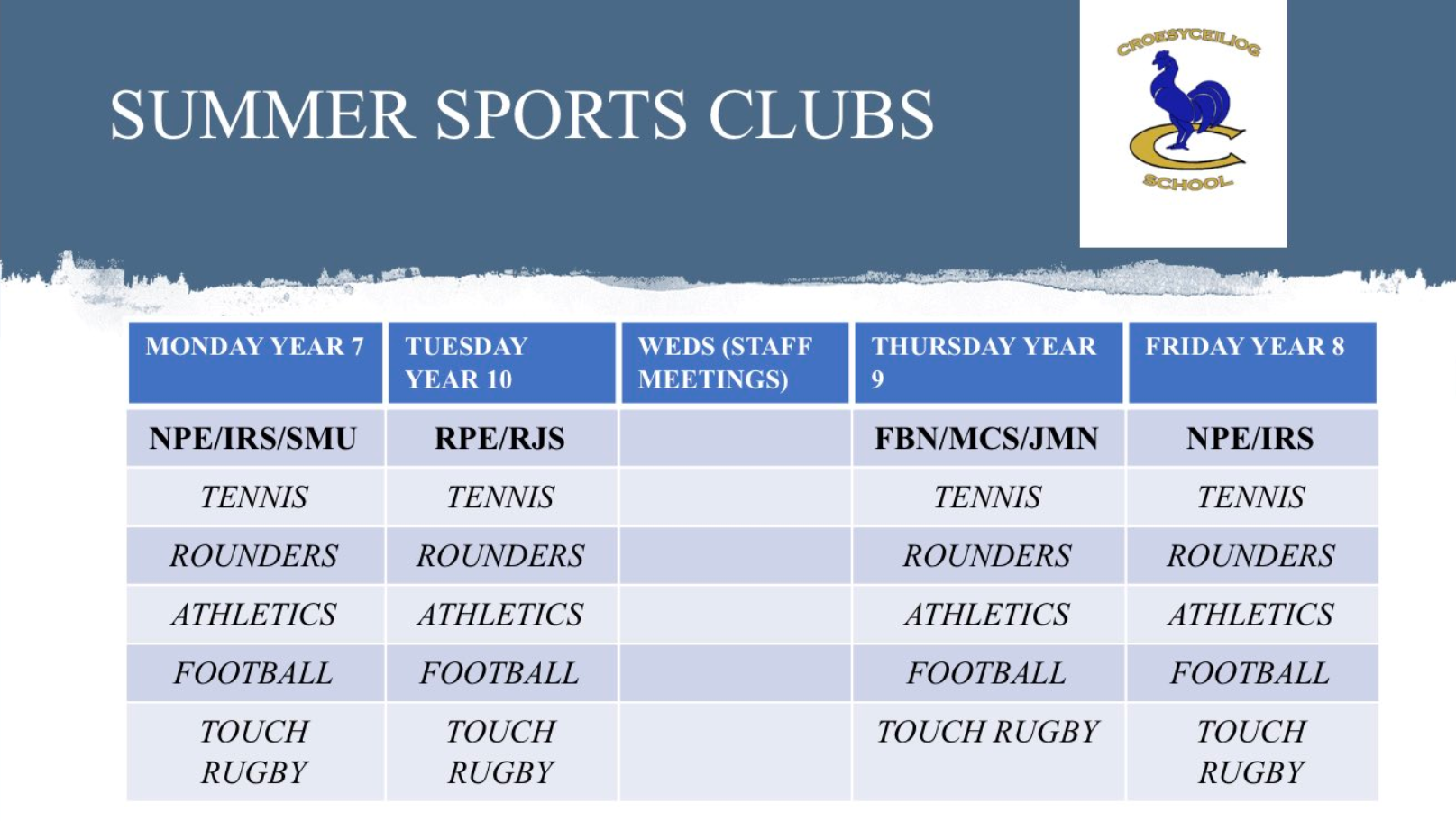 Executive Headteacher Announcement 10th March 2020
We are delighted to announce we have agreed a formal partnership with King Henry VIII School Abergavenny.
We welcome Mrs E Lewis as our Executive Headteacher.
Please read the letter attachment below detailing the arrangements for our new Executive Headteacher.
Estyn Monitoring Visit February 2020
Today, Estyn have published a report which places the school in special measures. Although progress has been made, it has been insufficient following the most recent inspection.
Hard copies of the inspection report are available in school or can be accessed online at www.estyn.gov.wales/inspection. A link to the report will also be emailed to all parents via parent mail.